Pang Industrial Brings Innovative Solution to Market
Founded in 1929, Pang Industrial serves global customers in the mining, materials handling, energy, and agricultural industries with a wide range of solutions. Pang Industrial is the conveyor repair brand in TRC's portfolio of brands. Pang Industrial aligns with parent TRC's 4r vision of Repair, Reuse, Recycle, and Repurpose.
Pang Industrial is a trusted partner around the world for plant managers and independent conveyor repair technicians who need quality repair products and solutions as equipment unplanned downtime is catastrophic.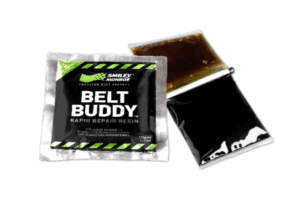 Pang announces the addition of an innovative product "Belt Buddy" to their line of conveyor repair products.
"I'm very excited about "Belt Buddy" a new product that's so simple and fast to use, someone with very little conveyor belt experience can restore a belt's performance and extend its service life. The production system can be back up and running in as little as two hours, which really minimizes the loss in productivity and revenue. Downtime is catastrophic for the industries we serve, so getting systems on-line quickly is essential," says Brian Laughlin, a key account manager with Pang Industrial.
There are numerous repair resins on the market today, but none are as fast curing and user friendly as Belt Buddy. Many others require special applicator tools or extra components, such as rubber primers to work. Their complexity creates several challenges, such as requiring that you have the correct equipment and training therefore potentially lengthening the downtime event.
Belt Buddy is completely self-contained, mixed and applied directly from its own packaging, and requires minimal belt preparation. To order or learn more about "Belt Buddy" its applications and uses, contact sales@pangindustrial.com or call Pang Industrial customer service at 800-705-2204.