Pelotonia 2018…Team TRC Rides Again!
TRC's core values contain a commitment to corporate social responsibilities. We strive to impact and strengthen the well-being of the communities in which we do business through actions that represent our core values – honor, innovation, leadership, teamwork, and intelligence. By our volunteering and charitable contributions, we give back to our global communities with service and fellowship.
An example of this corporate philosophy, is TRC's ongoing support and participation of Pelotonia. Founded in 2008, Pelotonia was established with the objective to fund life saving cancer research. Pelotonia is a three-day fundraiser experience, which includes a weekend of cycling and volunteerism.
TRC is again supporting the participation of our employees from all of our portfolio companies. Additionally, over a dozen key TRC vendor partners have joined us as "Sponsors" of the TRC riders!
For 2018, TRC companies are fielding seven riders, one virtual rider and 14 volunteers for the event. For the riders and volunteers, it's personal as cancer hits close to home and affects us all.
In their own words, read why TRC's employees and their families are involved in Pelotonia:
Brent Klomparens: 100 Miles
"Get involved, you won't regret it. When you do it once, you are hooked."
I moved to Ohio about four years ago, and at that time, Pelotonia was already a big thing. I wanted to get involved in Pelotonia because it is an event that brings the Columbus and Ohio community together, and it's fun to ride with a team.
I have been into cycling since I was a little kid, and riding for Pelotonia gives a real purpose to my cycling.
Chris Intihar: 100 Miles
"I am thrilled that so many TRC people have decided to get involved, it is a very powerful event, and it is great to be part of."
I lost my dad and brother to cancer, so I want to ride for Pelotonia and give back in their memories. Last year, I talked to friends who also wanted to ride, and we put a team together. This year we have a lot of volunteers as well, and it's also important to recognize the work they do. They set up tents, pick up garbage – they are awesome.
It is not a race, but a ride, it's fun. I like to see the way the community comes together, and you will see cancer survivors cheering you up.
Tony Collins: 45 Miles
"Every little thing helps, hopefully we can battle against cancer. "
Last year, I saw Team TRC posting pictures about Pelotonia, and it looked really cool. Then I saw a TRC e-mail, and I wanted to help out. Cancer affects 33% of the population, including me as my grandfather died from various forms of cancer. I also have a military friend from Germany, and he has been battling cancer for six years. He has a 12-year old girl to take care.
Ed Mitchell: 35 Miles
"It is truly for a great cause."
My father had cancer on July 3rd in 2012. We went to The James Cancer Hospital, and that's how I learned about Pelotonia. My father lost his battle with lymphoma on May 29, 2015.
I've been riding since 2012, and this year is my fifth year of riding for Pelotonia. The James Cancer Hospital is indeed a great facility, and it is also very fun to ride with friends.
Gianfranco Tripodo: 100 Miles (Virtual Rider from Italy)
"It moves my legs and it moves my heart."
I heard about the event from TRC, and I like riding bikes, so I signed up for the Pelotonia Event. I always have the passion for riding, and I lost my mom to cancer.
It's my first run, and I hope it will also be the last one because it would mean that Pelotonia has reached its goal to beat cancer!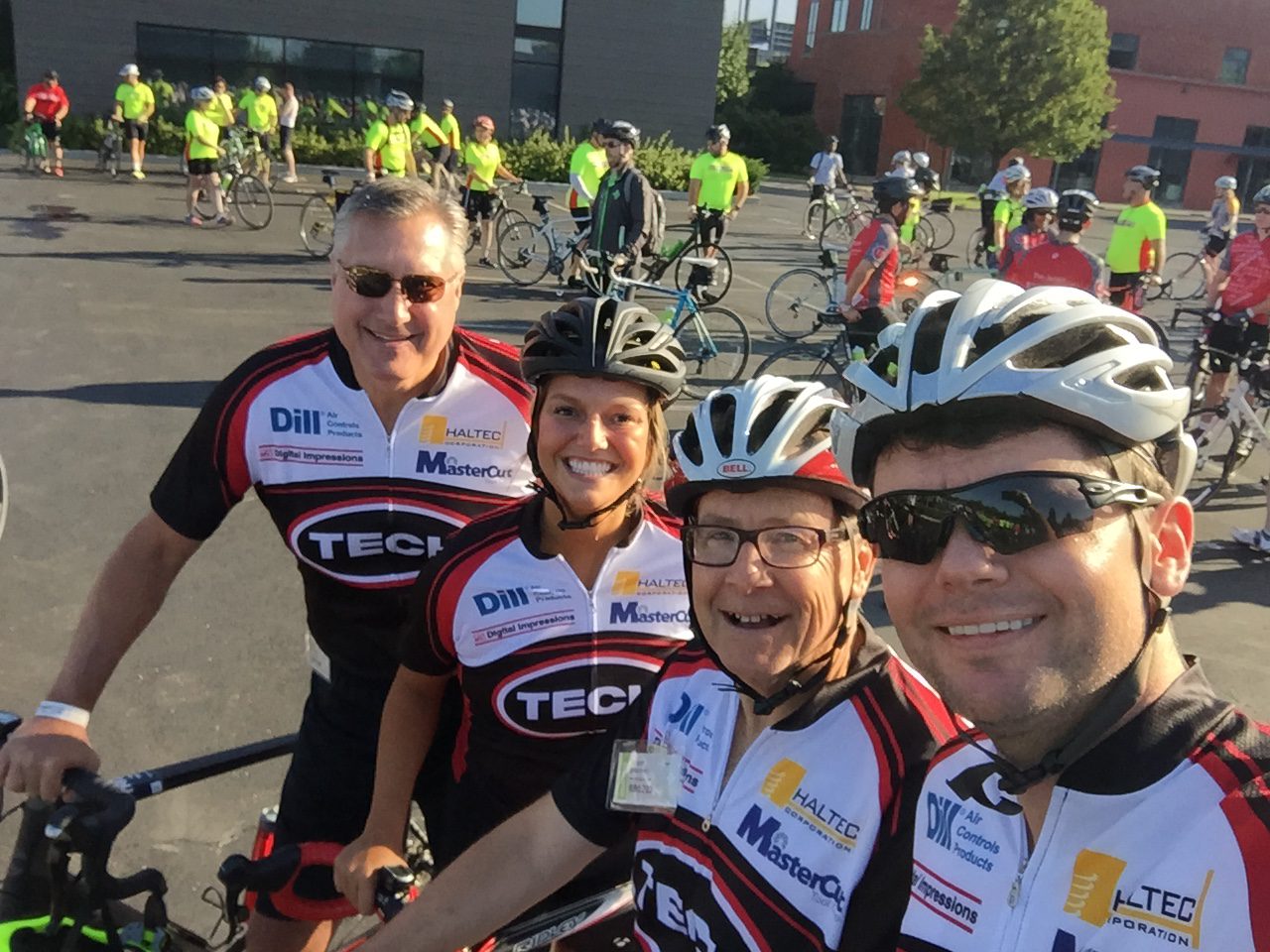 TECH/TRC Team Members at the 2017 Pelotonia Event
Gianfranco Tripodo preparing for the 2018 Pelotonia Event